Estate Planning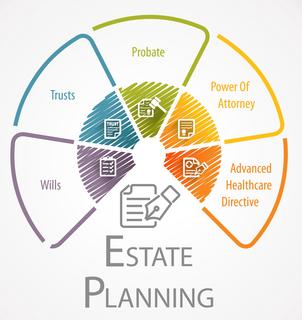 Our role is to guide you through the process and play devil's advocate! Click here for a helpful, and sometimes thought-provoking,Estate Planning Questionnaire to complete in preparation.

Documents are prepared by an Estate Planning Attorney.

A full set of documents includes:
Revocable Living Trust or Will (depending on your personal situation)
Asset Funding Guide
Financial Power of Attorney
Healthcare Power of Attorney
HIPPA Authorization
Living Will / Advance Directive
The process:
Determine needs with the help of an estate planning attorney.
Complete questionnaire & gather relevant information.
Email completed questionnaire to my office.
Meet to discuss choices and verify input data.
Pay for your full set of documents listed above.
Bound documents will be delivered to my office.
Execute documents (witness and notarize).
If using a Trust, I will help you with updating beneficiaries and retitling assets.
If your home is retitled into the name of your trust – the fee to change the deed is $150 plus recording fees of $20-$40 depending on the county.
Invite whomever you choose to access your documents safely stored in the cloud.
Have a change of heart, or remember something new? Changes can be made to your documents for 90 days after they are executed – at no charge.
Prices:
Trust: $ 2,000 single or a couple (discounts may apply for VFP clients)
Will: $ 300 per person
Amendments: $ 125 each
Funding: $ 150 deed transfer
Learn more about EP Navigator here.
Access your online Estate Planning Documents here.
Disclosure: Mary M. Garlock is not an attorney and her role is that of an advisor/consultant only. This activity is separate from Purshe Kaplan Sterling and Charles Schwab & Co.